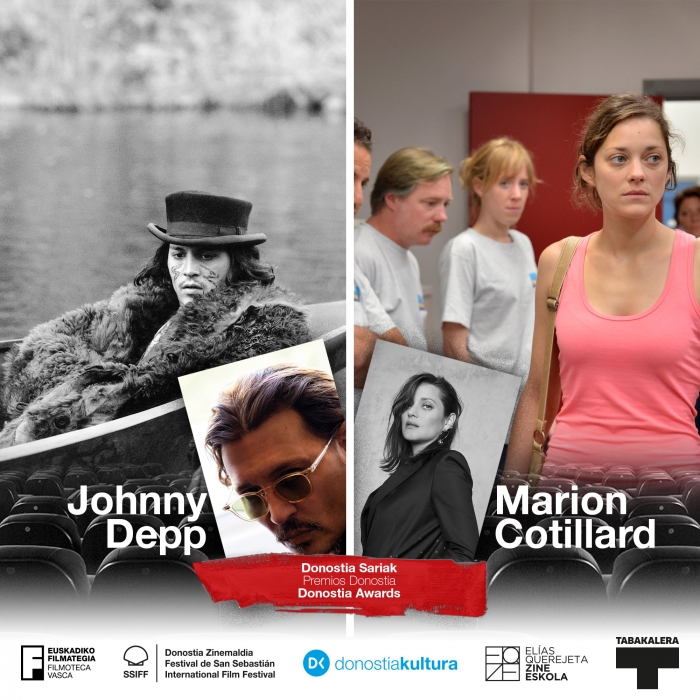 The Zinemaldia + Plus focus will offer two screenings with films starring Marion Cotillard and Johnny Depp, recipients of the Donostia Award at the 69th edition
Tabakalera's shared screen will programme 'Deux jours, une nuit', by the Dardenne brothers, on September 4, and 'Dead Man', by Jim Jarmusch, on September 9
During the month of September, San Sebastian Festival will offer two new screenings as part of the Zinemaldia + Plus focus running on Tabakalera's shared screen. Each film stars one of the Donostia Award-winners at the 69th edition: Marion Cotillard plays the leading part in Deux jours, une nuit / Two Days, One Night, 2014, directed by the Dardenne brothers, while Johnny Depp heads the cast of Dead Man (1995), by Jim Jarmusch. Both screenings will be introduced by the Festival Director, José Luis Rebordinos.
Deux jours, une nuit, one of the latest movies from the Belgian filmmakers Jean-Pierre and Luc Dardenne will screen on Saturday, September 4, in original version with subtitles in Spanish. The winners of the Palme d'Or for Rosetta (1999) and L'enfant / The Child, 2005 work with Marion Cotillard in this social drama where a woman has a weekend to convince her workmates not to accept their holiday pay so that she can keep her job. In 2006, the Dardennes participated with La promesse (The Promise, 1996) in the Emigrants retrospective.
The second screening, programmed for September 9 and with Basque subtitles, is Dead Man, the iconic film directed by the North American Jim Jarmusch. In this cult western, Johnny Depp portrays a fugitive on the run who stumbles upon a strange native American. The film was shot in expressive black and white and the original soundtrack is by the rock musician Neil Young. Jarmusch previously participated in Perlak with films like Ghost Dog: The Way of the Samurai (1999), Broken Flowers (2005) and The Limits of Control (2009); he also presented Gimme Danger (2016) in Zabaltegi-Tabakalera.
In recent years, prior to the Festival, Tabakalera has hosted screenings linked to the Donostia Awards, going at the 69th edition to Marion Cotillard and Johnny Depp. From now on, these showings will fall under the umbrella of Zinemaldia + Plus, a monthly focus which, since its creation in October 2020, has centred on programmes such as Ikusmira Berriak, Nest and the earlier work of filmmakers to have visited San Sebastian (First Steps), among other proposals. From October, Zinemaldia + Plus will recover its usual schedule within the Z365 concept, serving to turn the Festival into an event running all year round.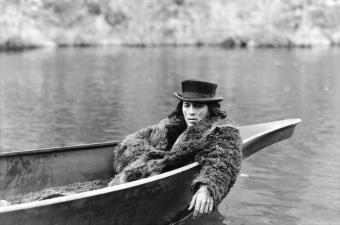 Dead Man
Jim Jarmusch (USA)
Country(ies) of production: USA - Germany - Japan
Cast: Johnny Depp, Gary Farmer, Lance Henriksen, Michael Wincott
William Blake decides to leave his accounting job in Cleveland, Ohio, after receiving a job offer in Machine, a godforsaken industrial outpost in the American West. He gets there only to discover that the factory owner, John Dickinson, has already given the post to somebody else. Out of work, he has a run-in with Dickinson's son, Charlie, who kills his wife when he finds her in bed with Blake. Blake retaliates by killing Charlie. Thus, a Cleveland accountant becomes an outlaw on the run with three bounty hunters hot on his heels.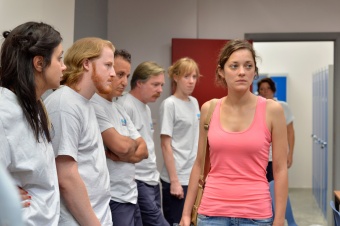 Deux jours, une nuit
Jean-Pierre Dardenne (Belgium), Luc Dardenne (Belgium)
Country(ies) of production: Belgium - France - Italy
Cast: Marion Cotillard, Fabrizio Rongione
Sandra has a single weekend to visit her workmates and convince them to relinquish their bonus so that she can keep her job. Her husband goes with her for support.